---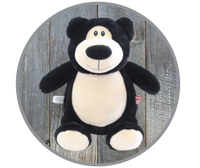 Overview
Cubbyford Black Bear has a black and beige body, snuggly fur, friendly black eyes, and a soft black nose. 
Product Description
Official Cubbies soft toy design
Lovingly handmade
Personalize with a variety of embroidered designs or make up your own
Unique zip design – Enables you to remove stuffing pods and safely wash your Cubbies teddy
Machine washable
Safe for all ages
Size: 13″ height
Disclaimer
Please double-check your personalization details to ensure you have the correct spelling for names, the correct order for monograms, the correct dates for occasions, etc. as personalized items are non-returnable and non-refundable.
Once an order has been placed we cannot guarantee any requests for changes to personalization will be received in time to stop the order. It is best that you call immediately after placing the order if a change is needed. If we have not started processing your order, we will make every effort to accommodate your request for changes.
Although most orders are complete within a few days, please allow up to 2 weeks for processing.