---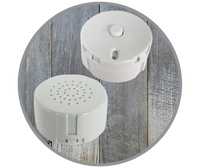 Overview
Mini voice recorder makes a nice accessory to our washable stuffed animals or makes a nice gift on it's own. The recorder can be placed inside the Cubby through the zippered opening. We find that the recorder is less obtrusive when placed on backside, neck area.
Easy to use. No computer necessary. Simply slide to R for recording and P for playing. Slide to O to turn off. Record your message over and over until satisfied. You may want to speak louder than normal when recording if device is going inside a stuffed animal. Holds one recording up to 20 seconds. 
Product Description

White push button style voice recorder
20 seconds recording time
R to Record (Press and hold button until recording complete)
P to Play (Press and release button)
O to turn off
Size is approximately 1.75" diameter

Note:
If purchasing voice recorder to insert through zippered opening of stuffed animal, make sure you are purchasing one of the Cubbies styles that contains a zipper.
Although the size of recorder is small, it may still be somewhat bulky inside a stuffed animal. Try to position in an area of the animal with a little give, like between the stuffing pods in the neck area or on the side.